Year 4 Trophy
As mini-soccer was "taking off" this competition was introduced for pupils in Years 3 and 4 of the Primary school. For 2008-09 it became a Year 4 competition because of a change in FA rules.
Special Rules
This Competition is played according to the

FA Laws for Mini-Soccer (7v7)

.
Only pupils in Year 4 are allowed to play.
Competition Secretary: T Baker MBE
Email: tombak6@aol.com
Roll of Honour
Season

Winners

Runners-up

1999-00
Biddick Hall, South Shields
2000-01
Ouston
2001-02
Mowbray, South Shields
2002-03
Easington Colliery
2003-04
Easington Colliery
2004-05
St Mary's RC, Sunderland
Pelton Community
2005-06
St Mary's RC, Sunderland
2006-07
St Mary's RC, Sunderland
2007-08
St Cuthbert's RC, Seaham
Oakfield
2008-09
Castletown, Sunderland
Bullion Lane, Chester-le-Street
2009-10
South Hetton Primary School
George Washington Primary School
2010-11
Hetton Lyons Primary School
George Washington Primary School
2011-12
Rickleton Primary School, Washington
St Mary's RC, Sunderland
2012-13
Cotsford Junior School, Horden
Easington Colliery Primary School
2013-14
St Mary's RC, Sunderland
Wingate Primary School
2014-15
Easington Colliery Primary School
Tanfield Lea Primary School
2015-16
Easington Colliery Primary School
Deaf Hill Primary School
2016-17
Shared: St Margaret's CE Primary School, Durham & Seaham Trinity Primary School
2017-18
Hill View Junior Academy, Sunderland
St Mary Magdalen RC Primary School, Seaham
2018-19
Easington Colliery Primary School
Birtley Portobello Primary School
2019-20
No competition due to the Coronavirus (COVID-19) pandemic
2020-21
No competition due to the Coronavirus (COVID-19) pandemic
2021-22
St Margaret's CE Primary School, Durham
Easington Colliery Primary School
2022-23
St Mary's RC Primary School, Sunderland
Easington Colliery Primary School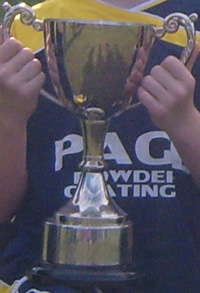 ---